6th Annual Big Cat Golf Classic
Where: At Tanglewood Golf Club
When: August 30, 2021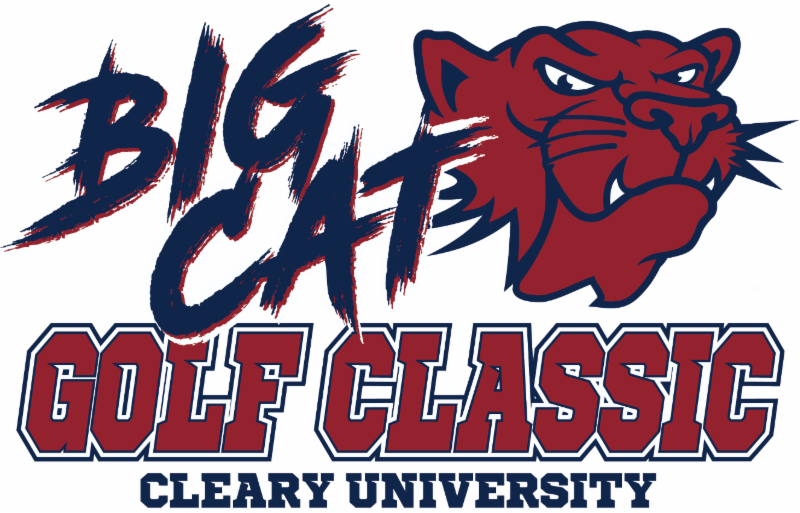 Join Cleary University on Monday, August 30, 2021, at Tanglewood Golf Club (22805 Country Club Dr. South Lyon, MI 48178) for the 6th Annual Cleary University BIG CAT GOLF CLASSIC!
This event launched in 2015 as a way to support Cleary student-athletes as our Athletic Department grew by leaps and bounds. We aim to ensure that all Cleary student-athletes have the necessary financial, academic, and emotional support services to ensure their success on and off the field.
To date, the event has raised more than $150,000.
After a pandemic hiatus, the event is back this year at the picturesque Tanglewood Golf Club, which features 27 championship holes. Attendees will have the opportunity to play in a 4-person scramble format and engage Cleary student-athletes. Our men's and women's golf teams will be on hand to lend a helping hand or "shot" at specific holes on the course.
The event features a continental breakfast, lunch at the turn, cocktail reception, and dinner as well as a number of opportunities to win fabulous prizes. All proceeds support the rising expenses associated with our growing athletic department.
Event Highlights
18 holes of Championship Golf at Tanglewood Golf Club
Four-Person Scramble Format
Closest-to-the-Pin (Men/Women)
Longest Drive Contest (Men/Women)
Hole-in-one Contest
50/50 Raffle
Cart and Range Balls
Continental Breakfast, Lunch at the Turn, Cocktails, and Dinner
Prizes Galore!
PRESENTING SPONSOR $5,000  |  (LIMITED)
Prominent "Presenting Sponsor" billing
Golf package for two foursomes (8 golfers)
Opportunity for company representative to speak at the event at Dinner
Company name and logo on all promotional, marketing, social media activity, registration, email communications, and University and Athletics websites
Company name and logo on all event banners, signage, and displays at Tanglewood Golf Club
Honorary starting location at the first hole
Optional 10×10 display booth space to promote company/organization
Opportunity to provide company promotional material(s) to each participating golfer
DINNER & COCKTAIL RECEPTION SPONSOR | $3,000
Golf package for one foursome (4 golfers)
Company name and logo prominently displayed during Cocktail Reception and Dinner
Opportunity for company representative to speak at the event at Dinner
Company name and logo on all promotional, marketing, social media activity, registration, email communications, event, University, and Athletics websites
Company name and logo on all event banners, signage, and displays at Tanglewood Golf Club
Opportunity to provide company promotional material(s) to each participating golfer
Golf package for one foursome (4 golfers)
Company name and logo prominently displayed at lunch area "at the turn"
Company name and logo displayed on personalize box lunch
Opportunity for company representative to speak at the event at Dinner
Company name and logo on all promotional, marketing, social media activity, registration, email communications, event, University, and Athletics websites
Company name and logo on all event banners, signage, and displays at Tanglewood Golf Club
Opportunity to provide company promotional material(s) to each participating golfer
BEVERAGE CART SPONSOR | $2,500 
Golf package for one foursome (4) golfers
Company name and logo prominently displayed on beverage cart
Company name and logo on all promotional, marketing, social media activity, registration, email communications, event, University, and Athletics websites
Opportunity to provide company promotional material(s) to each participating golfer or from beverage cart (i.e. cup, coozie, etc.)
BREAKFAST SPONSOR | $1,500
Golf package for two (2) golfers
Company name and logo prominently displayed during breakfast
Company name and logo on all promotional, marketing, social media activity, registration, email communications, event, University, and Athletics websites
Opportunity to provide company promotional material(s) to each participating golfer
TEAM PHOTO SPONSOR | $1,500
Company name and logo printed on every foursome team photo souvenir
Opportunity to table, display, and staff team photo sponsor area with members of your team to network, and engage with outing participants
Company name and logo displayed on the event, university, and athletics website
GOLF CART SPONSOR | $1,500
Company name and logo displayed on every event golf cart
Logo placement on event website and social media
Opportunity to provide company promotional material(s) to each participating golfer
V.I.P. PREMIER GOLF FOURSOME PACKAGE | $650
18 holes of championship golf at Tanglewood Golf Club for four (4) golfers
4-Person Scramble format
Cart and range balls
Continental breakfast, lunch, dinner, and cocktail reception
Drink tickets included with access to top-shelf bar service
No wait concierge check-in service upon arrival 
Four (4) Mulligans (a single golfer may rehit a shot from where it was last played)
Four (4) "Throws" (one per golfer over the course of the round)- throw your golf ball from off the green with no stroke counted
Four (4) "Power Drives"- one golfer gets to hit from the red tees or course designated advantage
1 yard of string- can be used to cut the distance from a ball to the hole without counting a stroke
Exclusive V.I.P. souvenir
18 holes of championship golf at Tanglewood Golf Club for four (4) golfers
4-Person Scramble format
Cart and range balls
Continental breakfast, lunch, dinner, and cocktail reception (cash bar)
TEE | HOLE SPONSOR | $400
Company name and logo displayed at your assigned hole/tee box
Opportunity to table, display, and staff the hole with members of your team to network, and engage with outing participants
Company name and logo displayed on the event, university, and athletics website
18 holes of championship golf at Tanglewood Golf Club for one (1) golfer
4-Person Scramble format
Cart and range balls
Continental breakfast, lunch, dinner, and cocktail reception (cash bar)