FOR IMMEDIATE RELEASE

CONTACT:
Heather Bateman
Senior Vice President of Campus Operations
Director of Athletics
517-300-7415 x.1701
hbateman@cleary.edu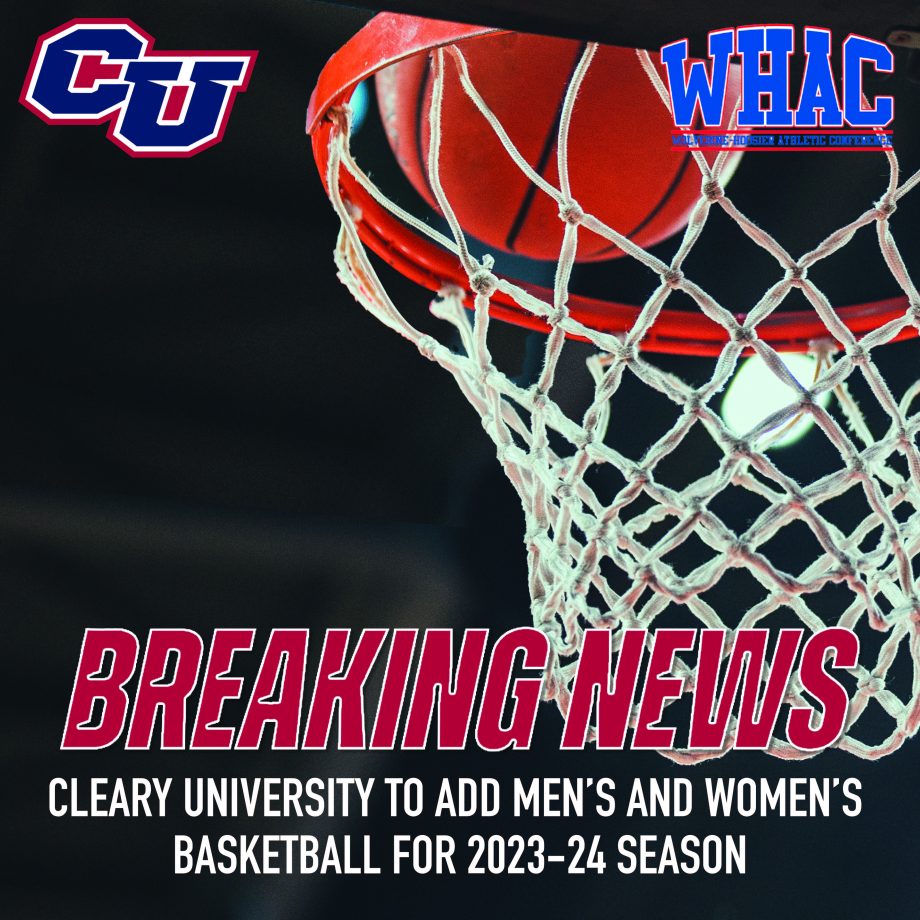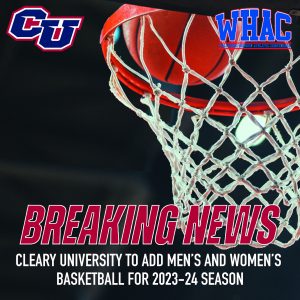 (Howell, MI) – Cleary University, Senior Vice President of Campus Operations and Athletic Director, Heather Bateman has announced the addition of men's and women's basketball as the 16th and 17th sports in the Cougars' catalog.
"We are extremely excited to bring men's and women's basketball to Cleary University," said Bateman. "We feel that the addition of both men's and women's basketball will continue to help us take the next steps to compete in the Wolverine Hoosier Athletic Conference (WHAC), and in the NAIA. We know that the addition of basketball will complement our other athletic programs, and we will do everything in our power to create two robust programs that the community and the University will be proud of."
The men's and women's basketball teams will begin competitive play during the 2023-24 season and will join the WHAC.  The head coaches for each program will be hired for this year (2022-23) with the task of recruiting their teams. 
Prior to the announcement, Cleary was the only WHAC member that didn't sponsor men's and women's basketball. The addition of men's and women's basketball means that all 12 members of the WHAC compete in the following sports: Men's and women's basketball, men's and women's soccer, men's and women's golf, men's and women's cross country and indoor/outdoor track and field, baseball, and softball.
Bateman continued, "We are very excited for what this means for our campus and community.  In addition to our already established programs, men's and women's basketball will only improve our student life experience.  Basketball is a traditional winter sport, and we believe our students will create an environment that makes Cleary one of the most difficult places for visiting teams in the conference."
You can look for the coaching announcements in the coming weeks. For all Cleary Cougar athletic updates, go to www.clearycougars.com. 
About Cleary University
Founded in 1883, Cleary University is a four-year, world-class accredited university, offering undergraduate and graduate degrees from a unique Business Arts curriculum, driven by a faculty of thought leaders with deep, practical experience in their industries. Providing on-
campus and online education models, Cleary provides a robust athletic program and a rich
residence life with nearly 200 students living on the quiet, rolling 50-acre campus. Cleary graduates tend to land jobs faster than their peers and with higher earning salaries at the start of their careers.
Cleary University is accredited by The Higher Learning Commission, a proud member of the HLC Standard Pathway, and an approved institution by the National Council for State Authorization Reciprocity Agreements. A nonprofit university, Cleary's campus is located at 3750 Cleary Drive, Howell, MI 48843, (517) 300-7415 with an education center within the Durfee Innovation Society at 2470 Collingwood St., Detroit, MI 48206.
To learn more about Cleary University, visit its website: https://cleary.edu. 
Cleary University:
Ranked #5 in the nation for best online business degree (University HQ)
Ranked #3 in Michigan for best average starting salary two years post-graduation (US Department of Education)
Ranked #5 in the entire country for its student debt ratio to starting salaries (Wall Street Journal)
Ranked #1 for Top Michigan School for a Bachelor's in Organizational Leadership (College Factual)
###