Student groups are fun and informative, student-directed, staff/faculty mentored, and meet on campus regularly.
Delta Sigma Pi (DSP)
Phi Omega Chapter at Cleary University
Delta Sigma Pi, also known as DSP, was founded at Cleary University in 2018. It is the first National co-ed business fraternity on campus and is one out of nine chapters held in the state of Michigan.
DSP's purpose is to host and organize a variety of professional, philanthropic and diversity events on campus through, workshop training seminars, presentations, employer field days, panel discussions and networking events to benefit Cleary students and community at large.
Offering on-campus and online education models, Cleary provides a rich residence life, vibrant athletics, and a family feeling where everyone truly knows your name. More than 200 students live on a rolling, 50-acre campus in an historic Michigan town, with robust involvement in athletics. Cleary's intimate student-to-faculty ratio leads to highly attentive learning and working relationships. Students have direct access to professors; they never have to wait for answers or attention. Administrators and faculty make it a top priority to know every student by name and focus.
Membership benefits include:
Full- Time study abroad Internships opportunities
Scholarships through National DSP fraternity
Opportunity to attend National LEAD Conferences and leadership retreats held throughout the country
Mentorship with professionals in chosen field (Partner with BYP, Howell Chamber of Commerce, DSP National Leaders, other DSP chapters and Cleary Alumni)
Discounts with Geico and Enterprise
Internship and job opportunities with corporate partners
E-Learning and webinars for members and alumni
Lifetime membership for networking and continued learning
DECA Inc. is a 501(c)(3) not-for-profit organization with more than 5,000 members in over 300 colleges and universities worldwide. DECA's purpose and mission is to prepare emerging leaders and entrepreneurs for careers in marketing, finance, hospitality and management through competitions, experiential learning and project based activities that require solutions with practical outcomes.
Prior high school DECA experience is a plus but not a pre-requisite to join at Cleary University.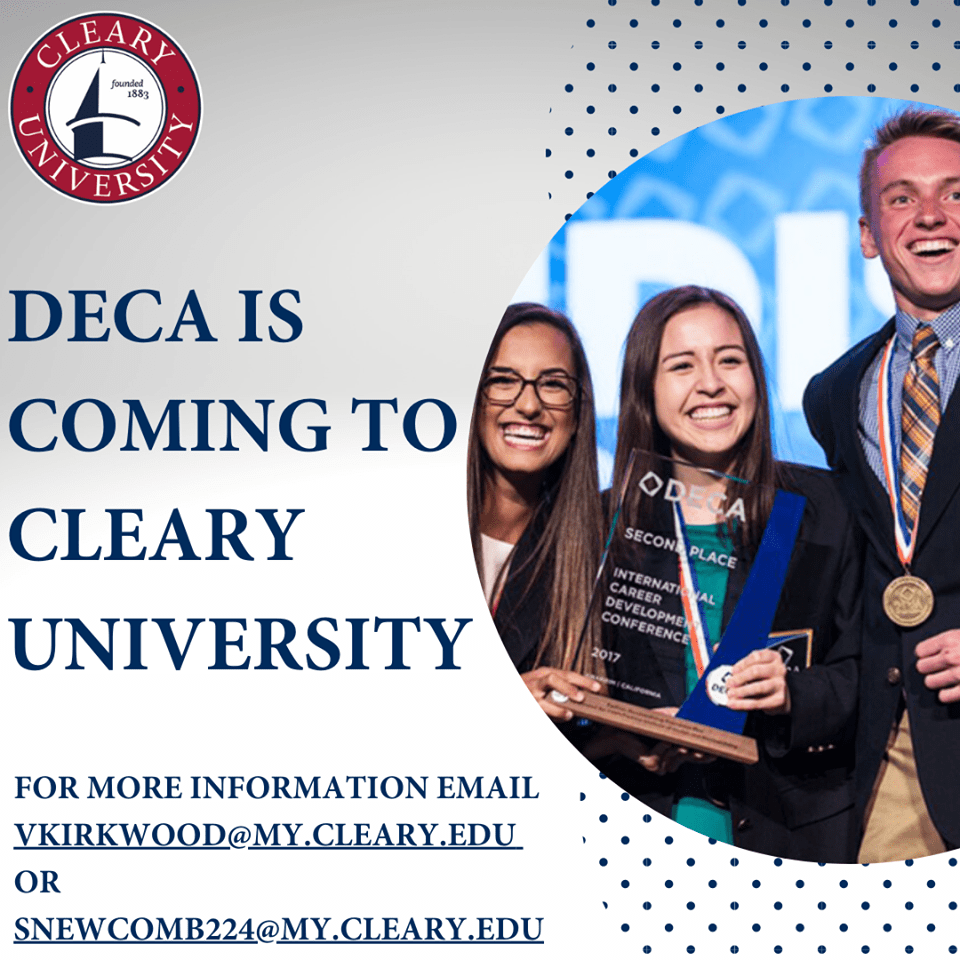 National Society of Leadership & Success (NSLS) at Cleary University
The NSLS is the largest leadership honor society in the United States. Our NSLS chapter at Cleary University was started in 2020. Our local chapter is part of the national organization with 700+ chapters and over 1.4 million members.
Students are selected based on exemplary academic achievement. As of 2021, we have 118 members who have access to:
The NSLS leadership program teaches the interpersonal skills that employers seek to give you an edge in the job market. Hear directly from current members as they share how their experience has changed their life.
If you become a member, some of the other benefits are:
Learn from exceptional leaders like former President Barack Obama during exclusive Speaker Broadcasts.
Meet new friends and make lifelong connections (on-campus and virtually).
Overcome challenges with success coaches shortcutting your way to success.
Access to private networking events.
Visit the NSLS website to learn more about and accept your nomination.
Frequently Asked Questions:
Some of the common questions we receive are listed below. If you have any other questions, visit nsls.org to chat with a team member or email help@nsls.org.
What do I have to do to become inducted?
Our five-step program takes approximately 12 hours over the course of the semester at your pace.
Is this recognized on Campus?
We are a Registered Student Organization (RSO). As of 2021, we had 118 in our chapter and there are more than 1.4 million members nationwide.
Students who demonstrate leadership skills and have a cumulative GPA of 3.5 or higher are nominated to join by Cleary University and receive honorary distinctions with NSLS. Upon nomination, students who would like to pursue membership must complete and attend Orientation, Leadership Training Day, 3 Speaker Broadcasts and 3 Success Networking Team meetings to be fully initiated in NSLS.
The Drama Club is devoted to the study and performance of live theatre, including the business and marketing aspects. Our goal is to see, as a group, a minimum of 4 professional and amateur theatrical productions a year and meet with the cast, crew and production teams to see just HOW they managed to pull it off! In addition, the Drama Club will produce its own small, yearly production at the end of Spring semester. This production will be decided upon by the club members and staff/faculty sponsors and performed at The Historic Howell Theater for a single weekend. 
Spiritual life at Cleary University is focused on deepening faith, developing leaders, and learning from diversity. We partner with the campus and larger community to deepen spiritual values, cultivate diversity, and prepare students for a pluralistic global workplace. 
Spiritual Life provides support to members of the campus community of any religious affiliation (or none) and also to those who seek spiritual life beyond the structures of particular traditions, and nourishes the broadly construed spiritual life of the campus community.
Cleary University's Associate Dean of Students, Matt Oliver is a confidential resource available to support you during personal crisis, navigating conflicts and exploring spiritual questions.
Student Veterans Association
The Student Veterans Association is a student organization dedicated to ensure the academic success for Veterans. The organization is also focused on the student veterans engagement in the university students life, to providing fun activities for the students and their families.
We are located in Chrysler Building, Room 214.
Follow our page to stay up to date on upcoming events and issues, also join us in the Facebook group to connect with your fellow student veterans.
Student Veterans of America Chapter
We are also working on establishing a chapter of the Student Veterans of America to connect you with thousands of student veterans across the country and give you access to tools and resources to better support you as student veterans on campus.