Introduction
Mission
To provide an intimate, student-centered business education that instills the values of the Cleary Mind™ in our community.
Boilerplate
Founded in 1883, Cleary University is a four-year, world-class university bestowing undergraduate and graduate degrees from a unique Business Arts curriculum, driven by a faculty of thought leaders with deep, practical experience in their industries. Offering on-campus and online education models, Cleary provides a rich residence life and vibrant athletics, with more than 200 students live on a rolling, 50-acre campus and nearly 2,000 students overall. Graduates land jobs faster than their peers and with higher earning salaries at the start of their careers.
Cleary University is accredited by The Higher Learning Commission, a proud member of the HLC Standard Pathway, and an approved institution by the National Council for State Authorization Reciprocity Agreements. A nonprofit university, Cleary's campus is located at 3750 Cleary Drive, Howell, MI 48843, (800) 686-1883. Cleary also hosts an education center at 2470 Collingwood St., Detroit, MI 48202. www.cleary.edu
Social Media
Follow Cleary on Facebook: https://www.facebook.com/ClearyU/
Follow Cleary on LinkedIn: https://www.linkedin.com/school/cleary-university
Follow Cleary on Twitter: @ClearyUniverse
Follow Cleary on Instagram: https://instagram.com/clearyuniversity
Brand Qualities
Core Characteristics
Innovation + determination
Developing the next generation of innovators
Teaching 21st Century skills
Ambitious / determined / will do the hard work
Athletics / healthy competition
A unique education: training through practice + repetition • Graduates are prepared, ready for the next challenge
Proper Naming Conventions
On first reference, always say Cleary University.
Subsequent references can be just Cleary or Cleary U.
There cannot be use of CU.
Branded Marketing Materials Policy
All Cleary branded marketing materials need approval by the marketing department before disseminating to the public or publishing online.
Visual Style Characteristics
Cleary University Design:
Is exciting and dynamic, bold and confident • Features diagonals and angled elements
Employs the Cougar claw marks
Uses a mix of textures and orientations
Is kinetic / conveys movement and energy
Is stable, but not static
Engages its audience and sometimes incorporates unexpected elements
Will integrate physical and/or digital interactivity whenever possible (e.g. interesting folds, die cuts, sliding components, etc.
Cleary Brand Asset Downloads
LOGOS
PRIMARY LOGO //
In most circumstances, this logo should be used
Font Details:
Minion Pro–Medium
Tracking +10
Left-aligned
To ensure proper spacing when the logo is stacked, the point size and leading should be the same number
HORIZONTAL VERSION
STACKED VERSION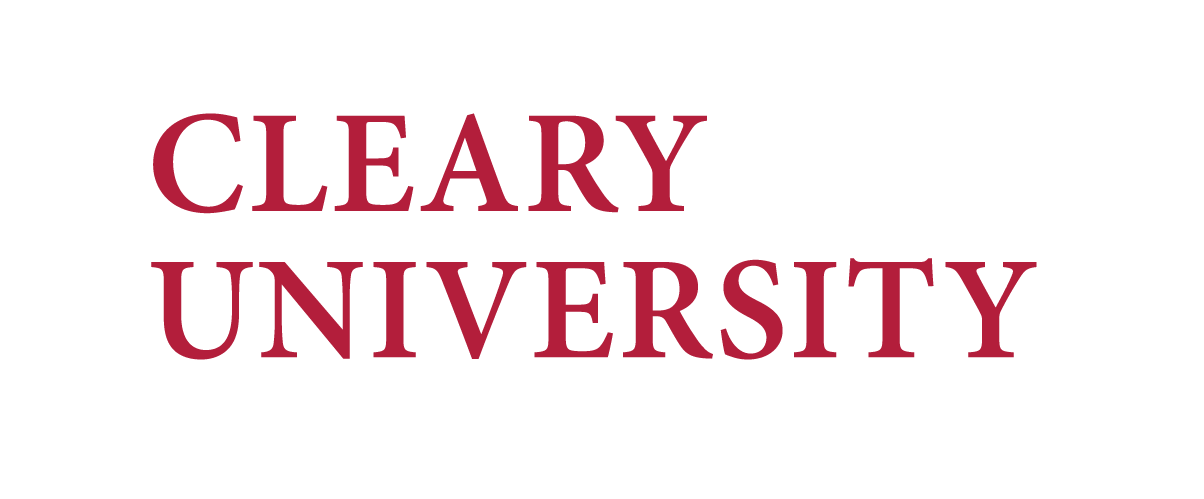 ALTERNATE LOGOS +
DESIGN ELEMENTS //
seal (emblem)
LOGO VARIATIONS
REVERSED //
White text on black, the dark blue, or dark red
from Cleary's color palette
Font Details:
When using reversed logo, adjust the font
Minion Pro–Semibold
Tracking +25
BLACK & WHITE

WHITE TEXT ON PMS 201

WHITE TEXT ON PMS 289

COLOR
MAIN
NAVY
PMS 289C
HEX #002B5C
C100 / M64 / Y0 / K60
R0 / G43 / B92
EXTENDED
BLUE
HEX #1B5485
80 / M44 / Y0 / K40
R27 / G84 / B133
RED
PMS 201C
HEX #B30838
C0 / M100 / Y63 / K29
R179 / G8 / B56
DK RED
HEX #8B0027
C0 / M100 / Y63 / K50
R139 / G0 / B39
GRAY
PMS Cool Gray 3C
HEX #D1D3D4
C0 / M0 / Y0 / K20
R200 / G200 / B200
DK GRAY
HEX #A7A9AC
C0 / M0 / Y0 / K40
R167 / G169 / B172
TURQUOISE
HEX #0092B7
C90 / M25 / Y20 / K0
R0 / G146 / B183
DK BLUE
HEX #152553
C100 / M90 / Y30 / K40
R21 / G37 / B83
BRIGHT RED
HEX #EE2D28
C0 / M96 / Y96 / K0
R238 / G45 / B40
EXAMPLE DESIGN ELEMENTS

BANNERS
LETTERHEAD

BUSINESS CARD
Cleary_Business-Cards