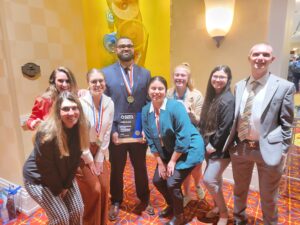 (HOWELL, MI) Cleary University is offering DECA scholarships in the amount of $20,000, $10,000 and $4,000.
The $4,000 scholarship is awarded to a new undergraduate student who enrolls full-time at Cleary.
Eligibility for the scholarship is as follows:
GPA of 2.5
Participated in DECA in high school
Submits a letter of recommendation from a student advisor
Continues to participate in DECA all four years at Cleary
Maintains a GPA of 2.5 at Cleary
Remains a full-time student at Cleary
Demonstrates good campus citizenship
The student will receive $1,000 a year for four years.
In addition to the $4,000 scholarship awarded to an incoming undergraduate, Cleary also offers a $20,000 scholarship ($5,000 a year) to a student who meets all of the above listed criteria and has held a national officer position or placed first at a national or international DECA competition.
Cleary also offers a $10,000 DECA scholarship ($2,500 a year) each year to one student who has met the same criteria as the $4,000 scholarship and has held a state officer position or has advanced to a national or international competition.
"At Cleary, we strive to offer our students every opportunity to succeed at the highest level by providing them with the resources to develop strong leadership skills as they pursue their career and life goals," reports Jeremy Walker, vice president of Enrollment Management at Cleary University.
This was evidenced at the international DECA Career Development awards competition held last month, the first competition in which Cleary DECA students participated. They brought home three grand awards, and five students were named finalists.
Undergraduate students Libby Cook and Chelsea Hendra received "Top 10 in Business-to-Business Marketing" honors – the only award recipients from Michigan, and Michael Lloyd captured third place in Entrepreneurship Operations – one of only two award winners from the state.
Cook, a junior from Brighton, is a Digital Marketing major who also is on the university's soccer team. Hendra, a junior from Australia, is a Project Management major who also plays soccer for Cleary. Lloyd, a graduate student from Ypsilanti, is working toward his MBA in Strategic Leadership.
Cleary established its DECA program one year ago with 14 students and expects that number to grow rapidly.
The DECA scholarship is one of several scholarship opportunities offered at Cleary. Others include the following:
Admissions Scholarship
This is based on GPA and SAT/ACT scores submitted prior to July 1.
Athletic and Academic Excellence Scholarship
These are awarded at the discretion of each respective varsity sport coach. Students also must meet Cleary's academic eligibility criteria.
Business Professional Association Scholarship
This competitive scholarship for $4,500 is awarded to a new undergraduate student enrolled full-time at Cleary who meets the requirements of documented community service and proof of membership in a high school business professional organization. The student also must provide
a letter of recommendation from a high school teacher or advisor. Applicants must have a minimum high school GPA of 3.0 and submit an essay with their scholarship application.
Cleary University Strategic Business Partnership Scholarship (SBP)
Cleary University partners with many businesses and organizations to foster continuous education and improvement. All eligible Cleary employees and their dependents will receive a 20 percent tuition grant toward a degree (after all other grants and scholarships have been applied). Students must meet Cleary University eligibility requirements and provide verification of SBP membership.
Cougar Excellence in Leadership Scholarship
This $1,500 competitive scholarship is awarded to a student in the Cleary University College of Undergraduate Studies who is a club member or team captain, has volunteered for two Cleary events, has maintained a GPA of 3.0 and has completed a scholarship essay.
Lake Trust Foundation Scholarship
Lake Trust Credit Union and Cleary University have partnered to offer full tuition scholarships every year to qualifying students who are pursuing an associate degree, bachelor degree or master degree at Cleary.
To learn more about the DECA scholarship and other scholarship opportunities at Cleary, visit the university's website at www.cleary.edu, contact Jeremy Walker, vice president of Enrollment Management at jewalker@cleary.edu, or stop by the campus on Saturday, May 14 between the hours of 10:15 am and 1 pm for an opportunity to learn more about the university; talk with representatives from Admissions, Advising, Career Development and financial aid; and tour the campus. Meet at Cleary Commons, the first building to the right as you enter the campus. Following your visit, you will be treated to a complementary lunch at Clancy's in downtown Howell. To sign up for the open house, click this link: https://www.tfaforms.com/4944499 or just stop by.
###