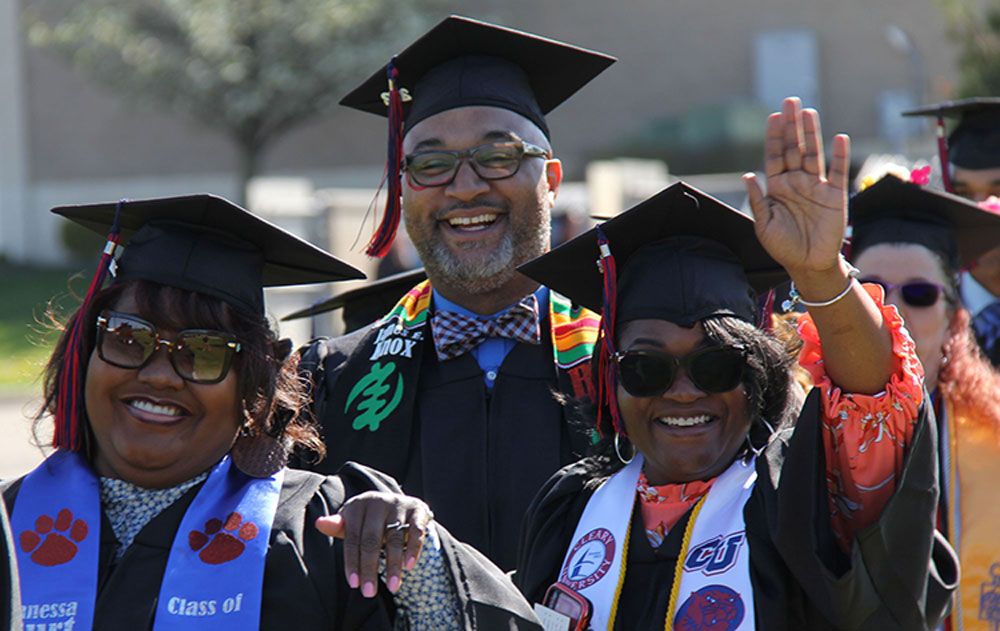 FOR IMMEDIATE RELEASE
August 10, 2022
CONTACT:
Brett Rogers
Director of Marketing
517-300-7415 x.1558
brogers@cleary.edu
(HOWELL, MI) The college rankings for 2022 are out, and Cleary University has made many lists for providing the best education!
University HQ named Cleary #5 in the entire United States for best online Bachelor degree in Business Management. University HQ considers many factors when determining its best colleges each year, including accreditation, admissions, retention rates, tuition costs, degrees offered and graduate rates.
"As Cleary is a private, as opposed to public, school, students might expect higher costs," University HQ officials say. "However, the tuition at Cleary is just under $22,000 a year, and that is before the financial aid office steps in to help lower those costs. One hundred percent of students at Cleary receive some form of aid, and tuition is lower than the usual tuition cost for students at all income levels," University HQ reports. "Students who are ready to be engaged in their education at Cleary have all of the resources they need to be successful."
To establish its rankings, University HQ uses these reputable sources: US Bureau of Labor Statistics, PayScale, College Navigator, College Scorecard and College Affordability Center.
University HQ's goal is to provide unbiased and comprehensive academic information for college-bound students to learn about career paths, university requirements, scholarship opportunities and new programs schools offer. Students using the University HQ website can learn about the top schools in their state and the country, what jobs are available in with their degree or certification, school costs, transfer processes for each school and how they are ranked compared to other schools in the state and country.
University HQ also ranked Cleary as one of the best bachelor's degree colleges in Michigan (#13) and one of the best master's degree programs in Michigan (#12).
More top rankings for Cleary University
In addition to these rankings, the US Department of Education has listed Cleary #3 in Michigan for best average starting salary two years post-graduation.
Cleary also made the Wall Street Journal's top colleges' list for debt-to-income ratio. Cleary University was ranked #5 in the entire country for its low student debt to starting salaries ratio.
College Factual, another organization that provides college rankings, named Cleary University:
#1 for highest paid bachelor's degree entrepreneurship graduates in Michigan
#2 for "Best Business Administration and Management Associate Degree Schools in Michigan
#2 for highest paid international business graduates in Michigan
#3 for "Best Business, Management and Marketing Associate Degree Schools in Michigan"
Military Times named Cleary University a "Best for Vets College in 2022." Our school was ranked 190th in the country and 33rd in the Midwest.
The Michigan Veterans Affairs Agency (MVAA) awarded our university this honor for continued excellence in serving our military-connected students in Michigan.
GradReports named Cleary University #15 in the US for "Best Business Bachelor's Degrees." GradReports obtains its data from the US Department of Education's college scorecard and compiles this information to help students choose a college that will best serve their academic and financial goals.
Cleary University is accredited by The Higher Learning Commission.
About Cleary University
Founded in 1883, Cleary University is a four-year, world-class accredited university, offering undergraduate and graduate degrees from a unique Business Arts curriculum, driven by a faculty of thought leaders with deep, practical experience in their industries. Providing on-campus and online education models, Cleary provides a robust athletic program and a rich residence life with nearly 200 students living on the quiet, rolling 50-acre campus. Cleary graduates tend to land jobs faster than their peers and with higher earning salaries at the start of their careers. To learn more about Cleary University, visit its website: https://cleary.edu.
###