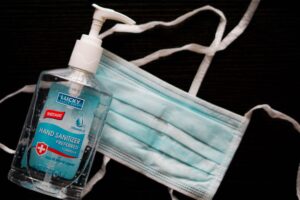 We are so excited to welcome new and returning students to Cleary University this fall, even though we know this year doesn't look much like we had hoped.
Nonetheless, we are here and we are ready for you!! We have lots of COVID planning and readiness, so we're confident about offering a sanitized environment where everyone can feel safe and protected.
Plus, we're excited for you to dive into academics, class discussions and campus life.
SWIRLING EMOTIONS
When students arrive to college, they're likely feeling a range of emotions. There's some worry, some fear, lots of enthusiasm and excitement, all rolled together.
You're concerned about your course load and how you'll handle college-level classes.
You want to make new friends, and wonder whether you'll find your place and a sense of belonging.
You're missing home, missing your friends and family. It may be your first time away! We have many caring adults on campus who are here for you and to help make it feel as comfortable and welcoming as home.
Or maybe you're so excited to finally spread your wings and fly. Great! You can do that here.
You're excited to take part in clubs and sports and activities, and this year, you're wondering if any of those things will be available due to pandemic protocols.
YOU ARE NOT ALONE
And there are other thoughts pinging through your mind, keeping you up at night, knotting that ball of nerves in your stomach. It's quite alright. You are not alone in these feelings, and we are here to support you every step of the way.
First, Cleary University has been working hard since the pandemic hit Michigan earlier this year to create a safe, mindful campus where everyone can co-exist. Our COVID-19 details can be found here.
We know this isn't the scenario you expected; it's not what any of us wanted! But together we will endure to protect one another and also immerse in the great learning and social opportunities available at Cleary University.
WELCOME WEEK
We have a full week of welcome activities planned with safe parameters, and this will help on-campus students acclimate to their new home.
Cleary University is focused on creating a family-like atmosphere for all students. Everyone is welcome here. Our staff and faculty pride themselves on getting to know every student. We are all here for you and dedicated to your success.
In time, you'll find that this is a place where you can become who you are meant to be, with the mentors and community needed to truly soar. We are honored that you chose Cleary University for your next phase. Welcome to campus and to a great new academic year!