By Emily Barnes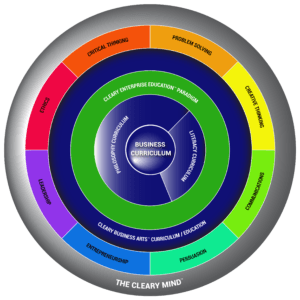 In this, the first blog on the Cleary University website, it's important to start at the core of who we are and what we aim to do as a four-year business university. Simply, we want our graduates to be complete people.
A complete person is one who not only understands how the world works and how a particular industry works, but is an integral part of the functions. A complete person is a change agent who creatively and critically approaches situations with an intention of making the world, their business, their home, better.
This person is ethical, driven, knowledgeable. This type of person is what employers are in need of, and it is this type of person that Cleary University strives to graduate.
Research has revealed that business students, nationwide, were not exhibiting the qualities that employers desire. That realization drove the creation of The Cleary Mind™, the foundation of The Business Arts™ Curriculum at Cleary University.
Recently, I was in a coffee shop in Royal Oak, Mich., sharing my thoughts about our curriculum and our pedagogical approach to teaching and empowering university students. A woman from a nearby table came over to us. She apologized for eavesdropping, and shared the story of her son who had gone through a program that allowed him to think critically, make an impact and speak up. He is now a community activist and life coach.
The woman thanked us for the work that we do through this innovative and thoughtful curriculum. She said, "This is what we need to develop in future generations."
A complete person, like the kind we seek to shape, doesn't have to be an anomaly. It can be every one of our graduates.
That's The Cleary Mind™.
We are moving into the second year of this new, original approach to university education. We focus on philosophy every semester, so students understand how to think objectively, critically and ethically. We want them to be who they are, and representing Cleary University, everywhere they go – whether that is a job, a business endeavor, or community involvement.
Cleary students must be able to comprehend information on a far deeper level than they ever before. Cleary University doesn't simply seek to just educate students. We help students develop identity, confidence, and voice so they not only 'get a job' but make a real difference as they build meaningful lives.
The Cleary Mind™, as delivered through The Business Arts curriculum, trains young minds to be adaptable, to solve problems, to think critically, to lead, to communicate well. These are what we consider to be transferrable skills.
A decade ago, transferrable skills were typing and knowing certain software. But the term today means knowing how to do things that apply everywhere.
The transferrable skills that will take us into an unknown future are competency, social efficacy, teamwork, communication, flexibility, and leadership.
The four years students spend at Cleary are crucial. It takes that long to repeat, repeat, repeat lessons, and take them into your being. We build skills through practice, repetition, failure, and another try.
Employers say our graduates are more prepared for the workforce than peers from other institutions. We prepare students to contribute and prevail in an innovative, constantly changing workforce.
Our curriculum focuses on business, philosophy and literacy/logic. This trifecta teaches students to think. That is critical to becoming a leader.
Cleary students learn to question, to understand reason and logic, to argue well. One's education is the most transformational time of life. Students have left the assumptive nest where they took for granted that what others said was gospel and now, they must develop a sense of who they are in the world, separate from the adults who told them what to do and how to do it.
The Cleary Mind™ Attributes
Our Business Arts curriculum aims to create a versatile business school graduate who can confidently contribute to the world. We seek to instill in our students these eight attributes:
Critical Thinking
Creative Thinking
Problem Solving
Communications
Persuasion
Entrepreneurship
Leadership
Ethics
You cannot become a leader without these profound traits. And you can't be a leader until you understand your Self.
Every good leader on the planet possesses self-efficacy. That is, a strong sense of identity that the majority of employers say their workplaces lack.
What Inspired The Cleary Mind™ ?
This unique pedagogical approach grew out of the needs of employers and the needs of society. We must create knowledgeable citizens and informed individuals who can contribute to a constantly changing economy.
Survey after survey reveals that employers want "business-ready skills" – not the specific job they're hiring for. They want people who come ready to contribute, to learn, to create.
They are looking for leadership, communication, and team-building skills – skills that a whole generation of people are lacking.
Our theories of development shepherd students through their university years with an eye toward helping them form identity. They're looking for beliefs. They are open to ideas. And because of that inquisitive open nature, combined with the encouraged questioning and immersive study of our approach to business education, they are destined to become contributors.
This is the Cleary Difference!
Emily Barnes is Provost of Cleary University.