Growing up in Sydney, Australia, Chelsea Hendra had no idea her soccer skills would take her around the world to pursue business education at Cleary University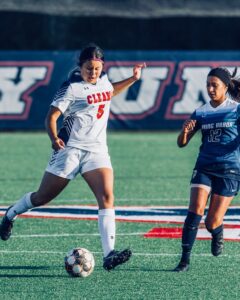 "I love playing soccer," says Chelsea, lamenting that Australian universities don't offer athletic incentives to attend college like American universities do. That was her main motivation for traveling to another locale to continue her education.
"I wanted to be able to expand on my soccer skills while also getting a degree," she says. And she's thrilled that the best opportunity was at Cleary University.
"I liked that it is a smaller school because I wanted it to feel like a community, especially being so far away from home," Chelsea explains. "I wanted to have that feeling of being able to know a lot of the students and teachers and staff. It's such a supportive environment, and really inclusive."
Majoring in project management, Chelsea has long wanted to support youth and envisions that her degree will likely take her to nonprofit management or a company with a mission to advance opportunities for young people. She wants to put her business degree to working "making an impact."
Living in the residence halls and working as an RA, Chelsea is embedded in the day-to-day Cleary campus culture. She alternates between duties at the res hall and working in the Cleary Commons cafeteria, and of course, attending classes. By 6 p.m., it's time for two and a half hours of soccer training, and after that, it's downtime when she can hang out with fellow students and other RAs.
"We make our own fun," she says of the on-campus community. A recent favorite activity is playing FIFA on the PlayStation, but board games, socializing, and hanging out while doing homework are close seconds. Of course, there's late-night noshing and fierce games of ping pong, too.
"It can be the most simple activity, but we'll turn it into something fun," Chelsea says.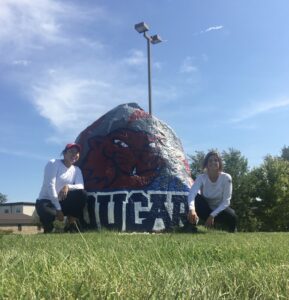 Admittedly, this year is not a typical year on campus, Chelsea notes. The COVID-19 pandemic has up-ended the "normal" flow of campus life – but it hasn't prevented Chelsea or her peers from having fun and feeling connected on campus.
She's still dedicated to spending time with friends, deepening relationships that began last year, and getting to know this year's instructors by "popping into their offices for a chat."
Chelsea also works closely with Cleary Career Development Advisor Lisa Tivy, who has been a guiding force for Chelsea's involvement in Delta Sigma Pi, the business fraternity on campus.
As president of the fraternity this semester, Chelsea works closely with Lisa, making plans and creating activities. "She's a big support for me," Chelsea says.
"Athletics is a really big part of being a Cleary student," she says. "A majority of the students here are student-athletes. The biggest selling points for me are that it's a smaller campus, the education is good, and the pricing is right. Overall, it's just a very close community and everyone has your back."
As an international student so far from home, with no ability to travel back for a visit due to the pandemic, Chelsea is glad she's at a place where she has developed a family away from home. It can be lonely to be so far away, she says, but everyone at the school is supportive. And that is the Cleary difference.