As the rapid spread of COVID-19 forced college and universities to shift quickly to new modes of learning, most higher ed students across the country packed up and moved home earlier than they had planned.  
That happened on our campus, too, but a handful of students stayed in Cleary residence halls. In this blog we share the stories of the six students who remained on campus as their classmates cleared out and went home. 
Ashley Hoskins, a rising senior majoring in business leadership and minoring in marketing and management, felt it would be easier to stay on campus since she and her roommate, Maya Williams, were moving into an apartment just a month after the shutdowns began.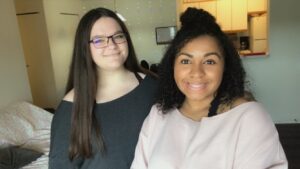 A bowler on the Cleary team who hails from Mason, Michigan, Ashley says, "It was very simple to move our stuff down the road, rather than all the way back home an hour away and then move it all back. We had everything we needed in the dorms; classes would move online."
The biggest challenge, she says, "was not being able to see my family as much I'd like to."
Distance has been hard for so many during this time, but the six Cleary students who stayed on campus created an intimate cohort, becoming even closer than they were before during this time, they says.
"It brought us closer together," Ashley says. "It seemed like a big family, even though we had separate rooms on different floors."
When the residence hall cafeteria closed, Cleary made sure to provide funding so students could still buy groceries or order food. "They went above and beyond during the last few weeks," says Ashley. "Cleary even helped us stock our fridge in our new apartment." 
Her roommate, Maya Williams, was equally pleased with the arrangement. A Cleary lacrosse player who is also a rising senior studying marketing, Maya says Cleary's ease at online and on-ground learning made it easy for students to adapt to only-online during this time.
"Cleary was able to adapt well to that because all of our assignments are usually turned in online," Maya says.
Staying Connected
She liked living on campus during the pandemic "because we were able to keep the mood up. We played board games. Cleary staff made sure we were all still living well. None of us went without anything."
Both Maya and Ashley continued in their jobs outside of school; Maya hails from Lowell, Michigan, which is an hour and a half drive away. She couldn't justify moving home temporarily before having to move back to fill the apartment with Ashley.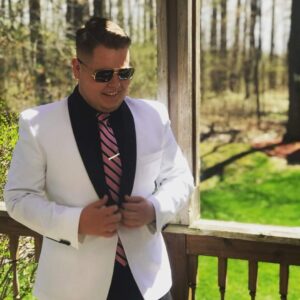 Logan Jarema just finished his freshman year at Cleary – the last two months of which he finished as part of the small cohort who stayed on campus. He's working toward a bachelor's degree in digital marketing with a minor in project management. After that, the Clio, Michigan native wants to obtain his MBA. 
"I had to stay because at my house, I don't have internet; there is no provider is available in my area – we can't even get the school-funded one," Logan says. "I stayed on campus so I could do all my schoolwork."
He liked the intimate setting. "It was nice. It kind of brought a homey vibe.," Logan says. "We all got along and did different activities together like board games and threw a football around. I'm a homebody, so it didn't bother me to be alone that much."
Logan lauds Cleary for the way they provided for the students. "We got fed from Clancy's, which was as awesome as having a home-cooked meal. And then once we went into the full lockdown, they did their best to provide for us to get food from other places."
Jacob Raffensperger was also happy with how Cleary supported the students who remained on campus.
Also finishing his freshman year, Jacob is studying business marketing. He graduated from Howell High School and hails from Durand, Michigan. He remained on campus to have access to WiFi.
"It was pretty nice," says Jacob. "We got closer, more than normal. Cleary offered extra activities to keep us from being bored."
Last Man Standing
Finding it impossible to travel out of the country, James Bell, a 2020 Cleary graduate from Warfield, England, is the last remaining student on campus. But he's in great spirits about staying at Cleary and appreciative of all the attention and care he's receiving.
"Everyone at Cleary has been incredible to me," James says. "Everyone, and I mean everyone, has reached out, offered support, said, 'If you need anything, let me know.' I've felt so valued, I've felt so cared for."
When he turned 22 recently, Cleary staff members reached out to say happy birthday – including the president, provost, and folks in the business office, James says.
It's been interesting to hear from his family in England how they're handling the pandemic compared with what is unfolding here in America, James notes. His brother is a police officer, and his brother's girlfriend is an NHS (National Health Service) worker, so he's hearing an earful of updates.
"In England, it's a unified effort, with a big emphasis on testing," James relays. "There's also a government furlong scheme to pay 80 percent of a person's salary if their company can't pay them. Every week they do a clap for essential workers, an incredible show of unity. Kids put pictures of rainbows in windows to make people happy. My Nan, who is 86, says it's just like World War II in Britain, where everyone comes together to fight something."
While James' family was supposed to come to Michigan for graduation and his birthday after saving for a year to afford the journey, they obviously could not travel due to the pandemic.
"I turned 22 in lockdown with no one really here. The housing manager had a little party for me, but it wasn't quite the same as being with my family," says James, who would love to go home when he can, "to give everyone a hug – especially my Nan."
Pleased with Cleary
Among other reasons, James came to Cleary because of its size. On his very first day on campus, he was thrilled that the dean, the head of student services, and other campus administrators and leaders stopped their work to welcome him. 
"That made me feel really valued," says James, who has dreams of being the next Sir Richard Branson, starting lots of companies. "It's a really inviting atmosphere," which certainly extended into this unprecedented situation.
The feeling of being valued and known has continued as he stayed on campus. When there were more students living there, James says, he and a few others, along with Housing Manager Zak Payne went outside every day to play sports.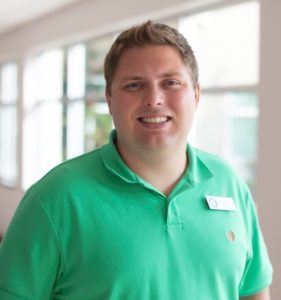 "I didn't know how to play baseball, and we hit a few baseballs," says James, who came to Cleary at first on a soccer scholarship. "They taught me how to throw an American football, and I showed them how to play soccer. It's been fun."
While he remains on campus, James is pleased to continue to connect with Zak. "I have a good relationship with him; being in quarantine together is pretty cool."
And he's not alone in this sentiment. All the students who stayed on campus during the pandemic say Zak was an amazing support – providing pizza, spearheading games and activities, and hosting a cookout, where they gathered around a fire and talked for hours.
Zak made it easier to stay, the students say. Like so many Cleary leaders, they claim "he's an understanding person" who truly cares about the students.
Which is what we call the Cleary difference.