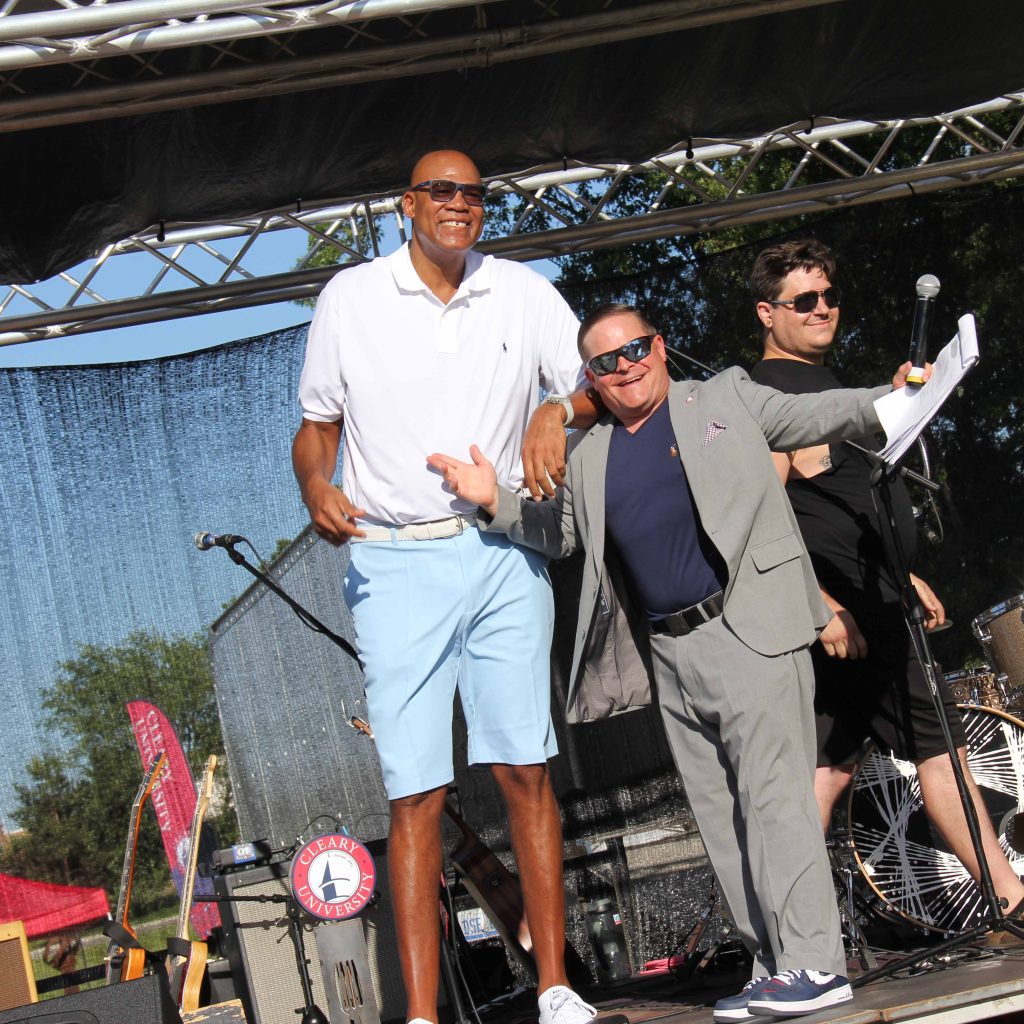 (HOWELL, MI) On Thursday, June 16, Cleary University welcomed some 450 people at its annual Vehicle to a Better Future, the school's signature fundraiser that directly supports scholarships for students in need. This event profited a record $175,000 for a single fundraiser, exceeding a total of $850,000 since Vehicle to a Future's inception seven years ago.
The event featured a custom car showcase, a live on-stage concert, cocktails and cuisine, and the coveted Cleary Cup Culinary competition, featuring Grace & Porta Benefits, Ideal Group, Lake Trust Credit Union, MS Ultrasonic Technology and Piston Group.
This year's winner of the cup was James "Buddha" Edwards, manager of Brand Marketing for Piston Group. The former Detroit Piston "Bad Boy," paired with Detroit BBQ Company, won the sellout crowd over with a "Battle of Burnt Ends," the food truck's signature dish. "He's already looking forward to the 2023 competition and reclaiming his title," announces Matt Bennett, DBA, executive vice president and chief advancement officer at Cleary who organized Vehicle to a Better Future.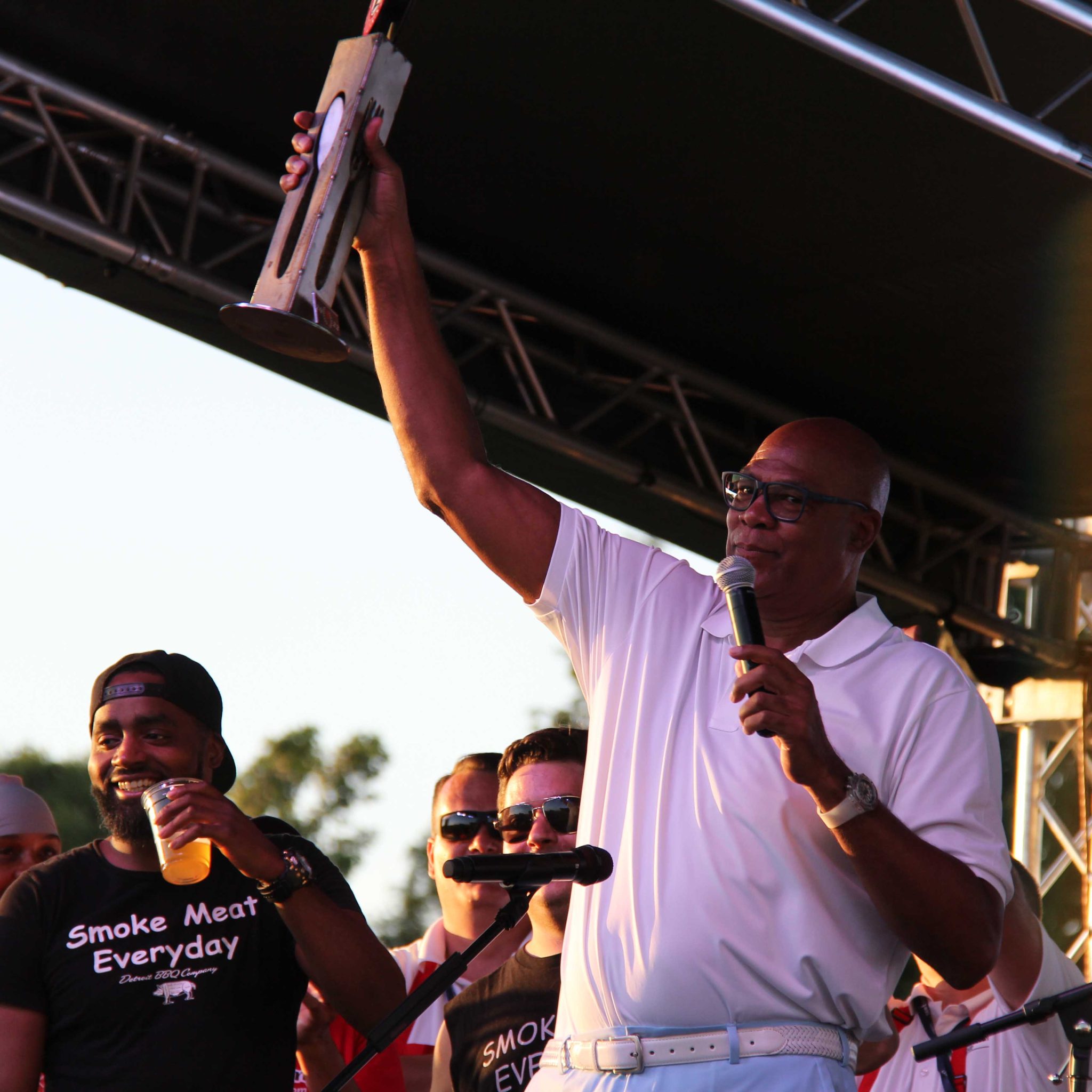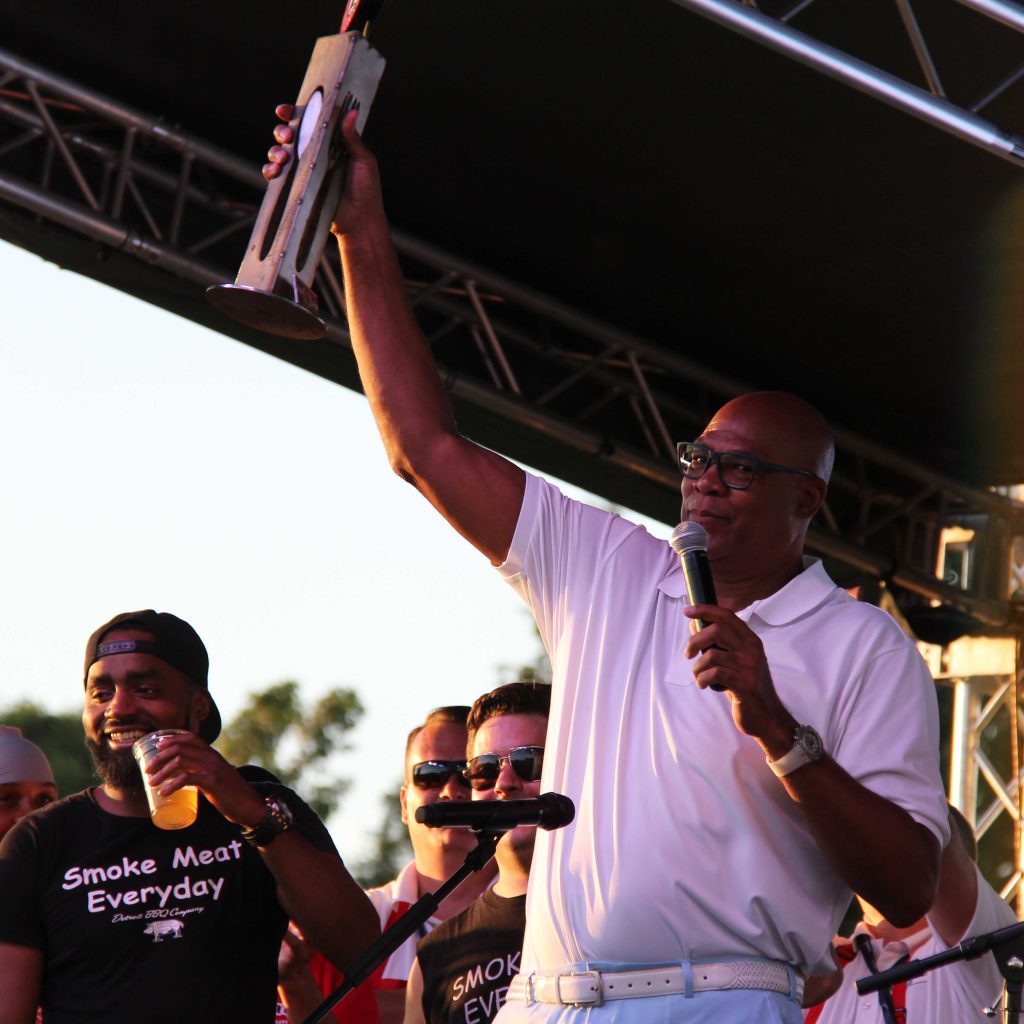 "Every dollar raised from this event directly supports scholarships for students in need," reports Dr. Bennett. "This is the only major fundraising event Cleary hosts each year; we invest a great deal of time and energy to make it a celebration of our students and university, and our results have been extremely successful, thanks to the overwhelming support and generosity of local businesses and community members.
"This event not only supports student scholarships and success initiatives, but it also offers an opportunity to connect the business community with our campus, our students, and the Cleary University community at large," Dr. Bennett finds. "At Cleary, we are proud to serve this region by developing aspiring business leaders who support organizations throughout our region, state and nation. Cleary graduates make immediate and positive contributions to the businesses they
represent; that is why supporting our future leaders is vitally important. Thanks to the community's participation in Vehicle to a Better Future, we are transforming lives. Cleary takes tremendous pride in ensuring our students leave this university ready for success."
Food trucks supporting the event and supplying the cuisine for the crowd include Captain's Wood-Fired Pies, Fortune Cooking, Daley Grind, Detroit BBQ Company, Whoa Taco and Cookies & Cream desserts.
About Cleary University
Founded in 1883, Cleary University is a four-year, world-class accredited university, offering undergraduate and graduate degrees from a unique Business Arts curriculum, driven by a
faculty of thought leaders with deep, practical experience in their industries. Providing on-
campus and online education models, Cleary provides a robust athletic program and a rich
residence life with nearly 200 students living on the quiet, rolling 50-acre campus. Cleary graduates tend to land jobs faster than their peers and with higher earning salaries at the start of their careers.
Cleary University is accredited by The Higher Learning Commission, a proud member of the HLC Standard Pathway, and an approved institution by the National Council for State Authorization Reciprocity Agreements. A nonprofit university, Cleary's campus is located at 3750 Cleary Drive, Howell, MI 48843, (800) 686-1883 with an education center within the Durfee Innovation Society at 2470 Collingwood St., Detroit, MI 48206.
To learn more about Cleary University, visit its website: https://cleary.edu.
Cleary University:
Ranked #5 in the nation for best online business degree (University HQ)
Ranked #3 in Michigan for best average starting salary two years post-graduation (US Department of Education)
Ranked #5 in the entire country for its student debt ratio to starting salaries (Wall Street Journal)
Ranked #1 for Top Michigan School for a Bachelor's in Organizational Leadership (College Factual)