Cleary University has always been an out-of-the-box place of higher learning. We are dedicated to finding new ways to provide access to education for a wider variety of people. And we have long been driven by a belief in the talent, vision and goodness of people.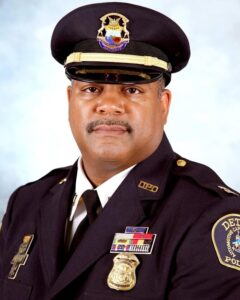 These guiding values directed us to partner with the late Captain Jonathan Parnell to create an opportunity for advanced education for members of Detroit law enforcement. Capt. Parnell exemplified what we hope to accomplish: a deep sense of curiosity and a passion for learning that catapults people to great heights.
In Capt. Parnell's memory, Cleary's Interim President and Provost Emily Barnes recently bestowed the Friedt Medallion upon his three sons and gave them full scholarships to Cleary.
Capt. Parnell died from COVID-19 earlier this year. At a tear-filled memorial service, Dr. Barnes spoke to an audience that included Parnell's three sons – Jonathan Junior, Jeremy and Nicholas – about their father's big heart, focus on lifelong education, and dedication to his community.
She recalled a story shared by Capt. Parnell's best friend, Lieutenant Mark Young, recounting a time when the two of them hung around with a group of officers on Cleary's campus after their class ended at 9:50 p.m. – talking and laughing until well past 11. Lieutenant Young said they walked instructors to their cars as they left for the night, and joked about how it was the safest place anyone could be – with lieutenants from the Detroit police force standing on the curb, gabbing into the middle of the night.
Lt. Young is continuing on to earn his master's degree in honor of Capt. Parnell. The Cleary University Courage and Service Scholarship allows police officers, firefighters, first responders, health professionals, EMTs and other brave individuals protecting Americans on the front lines to access higher education at both the undergraduate and graduate levels with a 50% discount on tuition at Cleary University.
As an advocate for education, Capt. Parnell's legacy lives on not only in his sons but in the members of the force who attain their degree in his memory.
Education is a transformation. It changes family trees. It opens possibilities. And Capt. Parnell was an example of this.
The true measure of education, according to author Kent Nerburn, is "not what you know, but how you share what you know with others."
A first-of-its-kind study by the National Police Foundation and California State University Fullerton found that one-third of American police officers earned a four-year college degree and more than half have a two-year degree. Only 5.4 percent went on to achieve a graduate degree.
A 2016 study published in Justice Policy Journal found that more education can lead to fewer force complaints in police departments. An article in Police Chief Magazine suggests that as the needs of our communities evolve and intensify, education and training play a critical role in promoting positive change in the field of law enforcement.
And an article published in USA Today in June, by a retired police officer from a family of law enforcement folks, argued that police officers need both training AND education to develop the "intellectual and ethical grounding they need to serve society."
The Rev. Dr. Martin Luther King, Jr., said, "The function of education is to teach one to think intensively and to think critically. Intelligence plus character – that is the goal of true education."
We are living in interesting times, and truly great men like Capt. Parnell are becoming harder and harder to find. We need leaders like Capt. Parnell to guide us forward to a better tomorrow, a future filled with hope and possibility for all. And that begins with access to a profound and inspiring education.
At Cleary, our purpose is to bring meaningful education to as many people as we can, opening minds, building bridges, and connecting communities so that we can be partners in the force for change and the greater good.
We are honored and humbled to unite with law enforcement leaders like Capt. Parnell, Lt. Young and all of you gathered here today to transform our communities through meaningful and accessible education. Lifting up one person lifts up generations to come.