Many students are drawn to Cleary University for our athletics along with our academics. As we say goodbye to our Class of 2021 graduates, we want to highlight four student-athletes who embody the Cleary Cougar spirit.
Henry Bonette / Bachelor's Degree, Business Leadership
Henry Bonette came from Palm Desert, Calif., to pitch for the men's baseball team while earning a BBA in Business Leadership. He enjoyed Cleary so much, he's returning to pursue a Master's Degree this fall.
Bonette graduated from Palm Desert High School and attended community college for two years before he was recruited to Cleary's men's baseball team. Bonette began playing baseball at age 5 and started pitching at 7.
"It's been a huge part of my life for as long as I can remember," he says.
The prospect of being able to play his favorite position while earning a versatile business degree prompted Bonette to commit to Cleary. Another huge selling point was the affordable tuition.
"Cleary was infinitely more affordable than anywhere in California," he says.
In stark contrast to the California desert, Michigan's four-seasons climate was part of what Bonette enjoyed about his Cleary experience. He loved the "woodsy" feel of the area. He also liked the flexibility of online and in-person classes and the camaraderie of the baseball team.
"I love playing here. We have a better relationship between the coaches and players than I've ever had before," he says, adding that the coaches foster an atmosphere of support he hasn't seen on his teams in the past.
During his studies, Bonette worked at Domino's and served as an assistant pitching coach for the Junior Varsity Men's Baseball Team. In the fall, he will begin coursework in pursuit of an MBA in Analytical Efficiency.
Hannah Benner / Business Management, Health Care Management
If earning two bachelor's degrees wasn't enough, Hannah Benner layered working, coaching, and playing softball into her dynamic schedule while at Cleary.
Benner grew up in Clio, Mich., and played sports all her life, trying her hand at volleyball, basketball, and softball. At Clio Area High School, she received several awards for academics and sports, including first-team All-Conference, All-District, and All-Region for softball, as well as the U.S. Marine Corps Distinguished Athlete Award.
Upon graduation, she was recruited by Cleary Women's Softball Coach Tim Bailey. "College is very expensive so if I could play the game I love while getting an education and helping to pay for it with an athletic scholarship, that's a dream," she said.
Benner was drawn to Cleary because of its focus on business education, and its small campus just an hour from her hometown. "I did not go to a huge high school so going to a smaller college was what I needed," she says.
As a Cleary Cougar, Benner stayed busy, traveling to softball games throughout the region playing right field. Her freshman year, the Cougars won the USCAA National Championship title. Benner also received All-Academic Team honors every year as well as All-Defensive Team twice.
In addition to school and softball, Benner worked as a medical assistant as well as at the Cleary residence halls for one semester. She also volunteered for the softball team.
This month, Benner earned dual Bachelor's degrees in Business Management and Health Care Management. She will start nursing school in the fall at Mott Community College, and coach a travel softball team for her younger sister.
"It's been a lot of fun being an athlete here and getting to know so many other great athletes," she says. "I love Cleary because I was able to meet my absolute best friends here."
Benner says she was honored to have the opportunity to be a collegiate athlete. "Sports have made me a better person," she adds.
Brandon Erla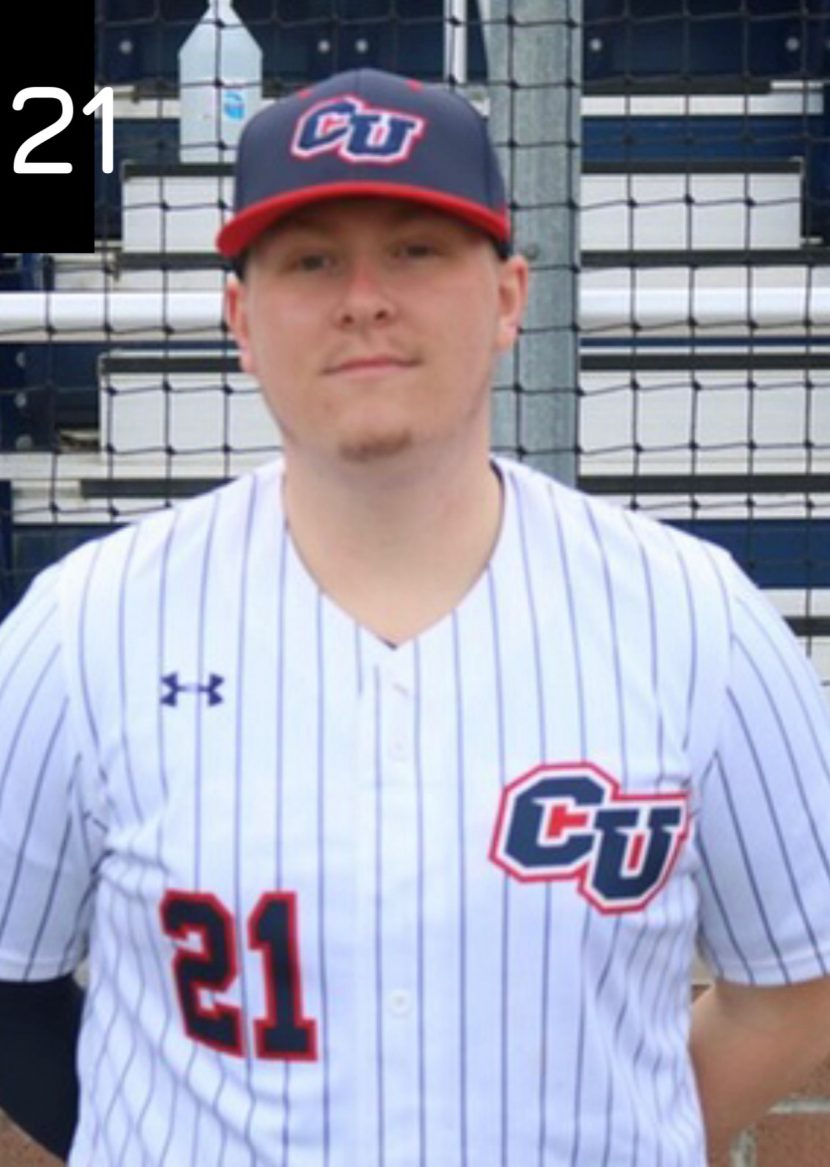 Brandon Erla started playing baseball when he was five years old. While attending Bad Axe High School in Bad Axe, Mich., he served as captain of the baseball team for three years and achieved All-Conference and All-District honors. He says the first big goal he set for himself was to play sports in college, so when he received a baseball scholarship to Cleary, he jumped at the chance.
"My parents sacrificed a lot for me to play travel ball and attend camps growing up, so being able to help pay for college was really important to me, to try and pay them back for all they did," Erla said.
During his first college inning freshman year, Erla playing against a junior college in Indiana and struck out Jordan Brewer, who went on to play for University of Michigan, where he won Big 10 player of the year and was drafted by the Houston Astros in the third round.
Erla says he will always look back on Cleary's tight-knit community.
"What I'll remember most about my time here is the relationships I've built," Erla says. "I also love how committed the school is to continuing to grow and improve."
In addition to playing baseball and earning a BBA in Business Management, Erla worked as a volunteer intern for Southeast Region of Special Olympics Michigan, helping to run events across the state, find volunteers, and train officials. After graduation, he joined The Perna Team in Novi as a real estate agent.
Benjamin Delage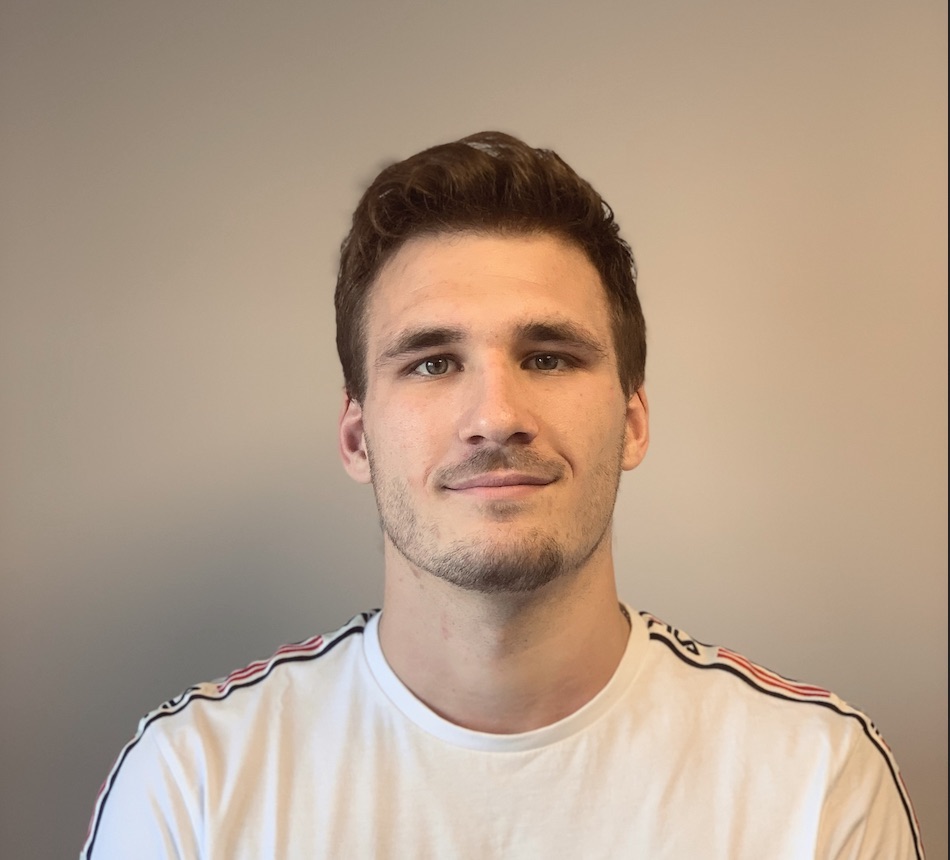 Hailing from Lons-Le-Saunier, France, Benjamin Delage is a member of Cleary University's growing International Student body. As a student at a private Catholic high school, he was looking for a high-quality business education while being able to play soccer.
Working with an agency that specializes in finding athletic scholarships at American universities for French students, Delage found Cleary University. He played center back/midfielder on the Men's Soccer Team and earned a 3.96 overall grade point average, landing him a spot on the Dean's List, along with the United States Collegiate Academic Association National All-Academic and 2nd Team All-American awards. He also was part of the Wolverine-Hoosier Athletic Conference Champions of Character and All-Academic teams.
Aside from soccer, Delage says his favorite part of Cleary was the faculty, adding that the university's small size allowed him to develop meaningful relationships with his instructors.
"It is easy to connect with the professors and benefit from their insights and personal experience," he says.
He also loved meeting students from all over the world. "Meeting people from different backgrounds and cultures has been such a valuable experience for me to evolve and grow as a person," he says
After graduation, Delage returned to France to pursue a Master's Degree in Global Sports Business from AMOS Sport Business School in Paris. "I will be focusing on the international sports industry where I believe my experience as an international student at Cleary will help me to succeed," he says.