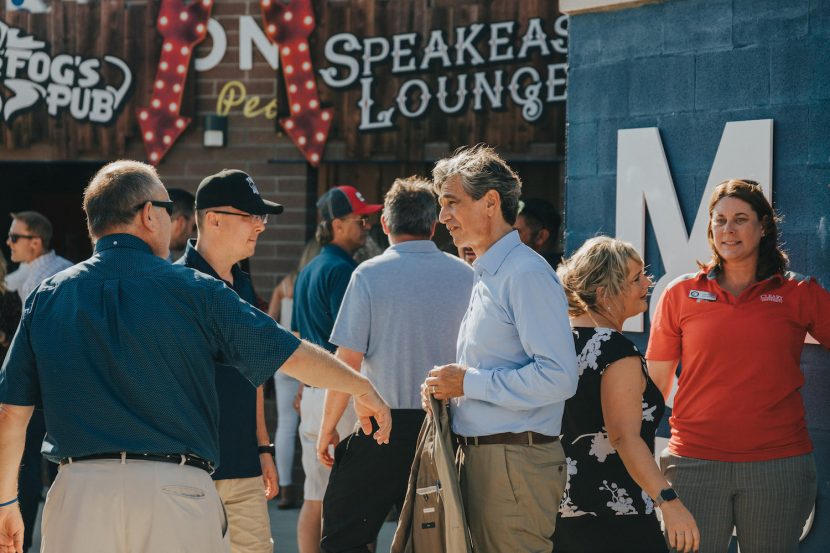 Cleary University's annual fundraiser, Vehicle to a Better Future, was back last month after a COVID hiatus in a re-envisioned outdoor fashion, generating $120,450 for student scholarships. 
More than 400 people turned out for the June 17 event, which paired local CEOs with food truck chefs in a competition for the Cleary Cup, which went to Nick Mannisto, the twenty-something entrepreneur who launched Captain's Wood-Fired Pies during the pandemic. He was paired with Travis, Jon, Dave, and Josh Porta from Grace and Porta Benefits Group.
Other presenting sponsors whose CEOs competed in the event included Ideal Group, MS Ultrasonic Technology Group, Lake Trust Credit Union, and Piston Group.
While the event used to take place indoors, its new format enabled participants to wander around Lake Trust Stadium on Cleary's Howell campus, sampling food and beverages, admiring sleek classic cars, and enjoying a performance by Lansing native Kari Holmes followed by a hot air balloon finale. The fundraiser has collectively raised more than $600,000 in its five years of existence.
"Despite so much uncertainty this year, we are humbled and proud to have raised these much-needed dollars for our students," says Dr. Matthew L. Bennett, Cleary's Senior Vice President, Institutional Advancement. "The outpouring of support for this event was energizing. The success of our reimagined format is a testament to our dedicated staff, students, and community. I thank all of our valued sponsors and volunteers for making this event entertaining and, above all impactful!
Other participating partners included Batter Up Waffle Company, Hero or Villain, 2 Fogs Pub, Whoa Tacos, Pacific Motors, Bob Maxey Ford of Howell, Detroit Steel Wheel, Mobsteel, and Ken Lingenfelter's Corvette collection.
In addition to its robust collegiate athletic program, Cleary draws students through corporate partnerships that sponsor scholarships for employees to obtain a business education. Cleary offers traditional undergraduate on-campus degree programs as well virtual non-traditional undergraduate programs that begin six times a year and graduate business degrees with cohort and online programs. Cleary is one of only three Michigan universities not raising tuition for the 2021-2022 academic year.
To get involved with next year's Vehicle event planning or become a sponsor, click here.
To become a corporate sponsor of Cleary University, click here.