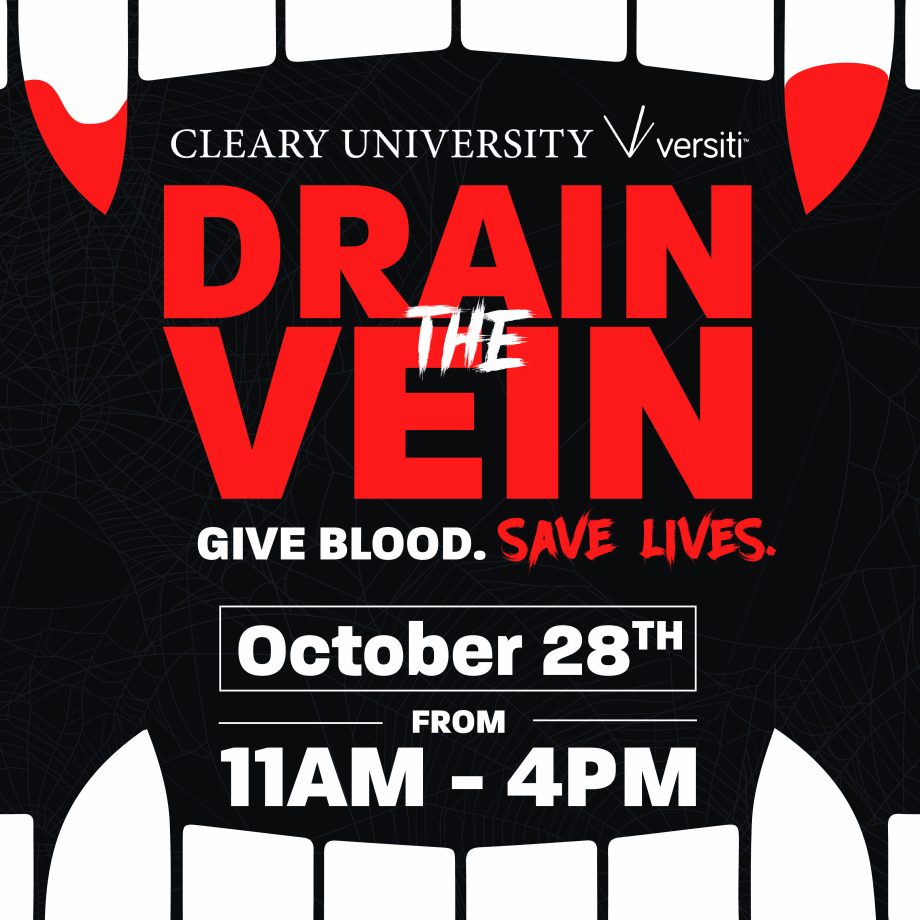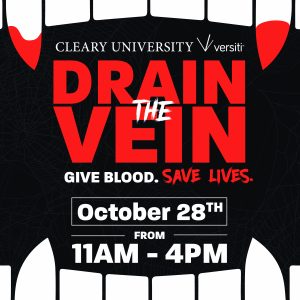 (HOWELL, MI) Cleary University will host a blood drive Friday, Oct. 28 from 11 am to 4 pm at Cleary Commons, located at 3750 Cleary Drive in Howell (off Grand River west of Latson). All donors will receive a $10 gift card and a t-shirt, along with entry into a drawing for free Cleary merchandise.
To donate, sign up at: https://donate.michigan.versiti.org/donor/schedules/drive_schedule/149337 or call 866.642.5663.
Here are a few facts that may help in your decision to donate blood:
More than 4.5 million patients in the US and Canada would die each year without lifesaving blood transfusions.
Someone needs blood every 2 seconds.
Every day in the US, 29,000 units of red blood cells are required in hospitals and emergency treatment facilities.
On an average, one in seven people entering a hospital will need blood.
Just one blood donation can save up to three lives.
A single car accident victim may need as much as 100 units of blood.
By the age of 72, more than 75 percent of Americans will need donated blood.
You can save a life by donating blood. It is a safe, fast and easy process. The blood collection takes about 10 minutes. Allow for about one hour for the entire process.
Donors must:
be at least 16 years old
weigh at least 110 pounds
not have any mild illness (eg cold, flu)
not have unmedicated diabetes, anemia or high blood pressure
You can donate whole blood every 56 days (eight weeks). This gives the body time to replenish lost blood.
Versiti Blood Center of Michigan sponsors the blood drive at Cleary University. The blood center has provided blood products and services to patients since 1955. It collects more than 120,000 units of blood annually and has a nationally recognized stem cell program.
About Cleary University
Founded in 1883, Cleary University is a four-year, world-class accredited university, offering undergraduate and graduate degrees from a unique Business Arts curriculum, driven by a
faculty of thought leaders with deep, practical experience in their industries. Providing on-campus and online education models, Cleary provides a robust athletic program and a rich
residence life with nearly 200 students living on the quiet, rolling 50-acre campus. Cleary graduates tend to land jobs faster than their peers and with higher earning salaries at the start of their careers.
Cleary University is accredited by The Higher Learning Commission, a proud member of the HLC Standard Pathway, and an approved institution by the National Council for State Authorization Reciprocity Agreements. A nonprofit university, Cleary's campus is located at 3750 Cleary Drive, Howell, MI 48843, (800) 686-1883 with an education center within the Durfee Innovation Society at 2470 Collingwood St., Detroit, MI 48206.
Cleary University:
Ranked #5 in the nation for best online business degree (University HQ)
Ranked #3 in Michigan for best average starting salary two years post-graduation (US Department of Education)
Ranked #5 in the entire country for its student debt ratio to starting salaries (Wall Street Journal)