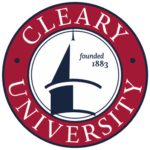 Program Description
Cleary University's Master of Business Administration with a concentration in women's leadership is uniquely designed to provide male and female leaders with the tools to lead change and uncertainty. Its focus is on how leaders can unleash the potential of the organization to adjust and adapt in ways that successfully address the inclusive, global, and diverse needs of a shifting environment.
As one of our signature programs designed to prepare you for the demands of leadership, this program provides students with high-profile mentors and individual opportunities to apply their leadership skills through coaching and mentoring emerging leaders. We take this individual and experiential approach to ensure that our students possess a strong presence, develop exemplary negotiation and communication skills, and are uniquely able to stand firm through storms of modern corporate America. This program involves service learning, an instructional method designed to enhance the learning experience through application. Our mentors are in place to guide you, shape you, and develop you into a robust, confident, assertive, highly-skilled, and knowledgeable professional.
Career Opportunities
This program focuses on how women leaders can drive results through vision and inspiration and addresses how women leaders can strategically position organizations and the people within them to be malleable in the face of complex changes. This program provides a foundation for women's leadership development and exposes you to multiple dimensions of leadership through service learning and service to emerging leaders in your community. Career opportunities, include chief administrative officer, chief information officer, director, chief executive officer, and executive director in banking, financial planning, automotive, government, education, and health services.
Learning Outcomes
Graduates of the women's leadership program will be able to:
Lead your firm to embrace and support gender diversity. Communicate benefits of diversity to gain support for organizational change.
Create a strategic vision and sharper decision making skills; experience growth through innovation and crisis management.
Improve your leadership skills by learning different leadership styles for adaptation to individual, team, or corporate situations.
Communicate with power: Develop executive presence through coaching of verbal and nonverbal skills.
Build an authentic leadership style: Articulate your value proposition, gain confidence, and create a career strategy that supports your goal for working in a senior management role within your organization.
Identify practices and attitudes that support a healthy work-life balance.
MBA – Women's Leadership (33 Credits)
---