BBA – Business Management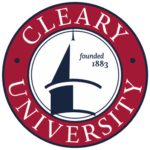 Program Description
The one constant in today's career environment is unrelenting change—change catalyzed by economic, environmental and cultural transformations, global business, and technology. The Cleary Business Arts™ education and related degrees embrace the dynamic realities of change. This one-of-a-kind business education enables you to enter the business world uniquely prepared to think—with agility and flexibility—to encounter change and thrive.
Unlike a specialized degree, a business degree can help you launch your career in several different industries, which can be a huge asset when seeking a job after graduation. Business and related subjects (such as the FAME group – finance, accounting, management, and economics) are among the most strategic fields of study at universities worldwide, particularly at the graduate level.
Business touches every aspect of modern human society, and professionals with a business degree are diverse and often highly paid, which is why business graduates remain in high demand globally.  Degrees in business management provide you with a highly portable degree in general management. The broad base of subjects covered in this degree, and its concentrations, will enable you to control your path and then shift it – and shift it again – when markets, economies, and industries evolve and change.
Career Opportunities
Project Manager
Team Manager
Information Manager
Team Leader
Entry-level Manager
Operations Supervisor
Learning Outcomes
Graduates of the business management program will be able to:
Apply critical thinking to the research, analysis, and resolution of business problems.
Communicate effectively in written and oral presentations.
Direct the work of others to achieve organizational goals and objectives.
Relate ethical, legal, and social considerations to complex business situations.
Identify motivational traits and qualities necessary to accomplish organizational goals.
Evaluate effectiveness of management processes, programs, and outcomes.
BBA – Business Management (120 Credits)
---
Additional Program Requirements
General Education (see General Education Requirements for details) 30 credits
Electives (Up to 15 credits - 1000/2000 courses only Credits)
*Note: 15 credits within lower division core can also count towards general education. *Note: Up to 15 designated major or elective credits can be replaced with MBA or MS courses, which will count towards graduate degree requirements.