Cleary University, in partnership with the Detroit Police Department, celebrated the graduation of some 102 officers and staff on Saturday, May 21 at Little Caesars Arena (LCA) in Detroit. Police Chief James E. White, the keynote speaker at the ceremony, announced, "This is one of those monumental moments in your life that you always will remember. As graduates of Cleary University, you now have that ticket that will change your life forever. Every one of you has taken a step to serve this community even better. You are armed with the tools of the mind to affect even greater change," he says.
"The proudest moment of my career was being invited to the White House to represent the Detroit Police Department and all of our accomplishments," Chief White notes. "The second greatest moment of my career is right here, looking at all of you. I feel like a proud Dad." Along with Police Chief White, Cleary President Alan Drimmer, PhD, congratulated the graduates and the police chief for "making Cleary better. You did something remarkable, you helped us create a program that leads to great success and achievement in a short amount of time. Your dedicated team got us to the finish line faster than any of us could have imagined." Edie Barnes, chairwoman of the Cleary Board of Trustees, told the graduates, "There is no limit to what you can accomplish. Together, Cleary and the Detroit Police Department have created a culture that drives results. You took a leap of faith into our program, and you proved it works!" Deputy Mayor of Detroit Todd Bettison also shared a few words at the ceremony. "You've made history. You make sacrifices for our community day in and day out, keeping us safe and protected, and now you've tackled another amazing endeavor. I am so proud of each and every one of you. What you have accomplished is truly remarkable. You not only are highly trained officers, but now you are highly educated ones. You have stepped into greatness. Go forth and seize the many opportunities that await you."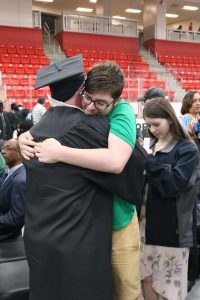 Cleary partnered with the Detroit Police to develop an innovative degree pathways program, designed specifically for sworn officers and civilians of the department seeking to earn a BBA degree in Leadership, Diversity and Public Safety and a master's degree in Leadership. These pathway programs, launched in the fall of 2021, credit officers and staff for previous course work toward a degree, for life and work experience, and for other completed certifications and training. This prior learning assessment process helps veteran police officers complete a bachelor's degree in only 12 months at Cleary. The officers and staff at the Little Caesars Arena ceremony on Saturday are the first graduating class for the degree completion pathway program. "We are extremely excited to work with Cleary University to enhance the educational paths of our valued officers and staff," Detroit Police Chief White announced when the partnership was developed. "We are especially happy that in less than one year, more than 100 individuals from our department were able to complete their degree." Lt. Mark Young, a veteran Detroit police officer and president of the Detroit Police Lieutenants and Sergeants Association, completed his master's degree from Cleary in Culture, Change and Leadership. At the university's commencement exercises at Cleary University for all 280 graduates, Lt. Young received the Graduate Students Leadership Award. "Influence, hope, purpose, vision, relationships … these are attributes of a great leader," he announced on stage after he received his award. "Cleary helped me, and my fellow police officers, gain a better understanding of the importance of relationships, and of bringing vision into our lives. I received a life-changing opportunity at Cleary; it is one of the best things that ever happened to me. Cleary has allowed me to be the best I can be, to discover the possibilities life has to offer. I represent heroes, but the real hero is Cleary University's founder who gave us all a reason to be Cleary proud," he said to his fellow Detroit police officers and all graduates.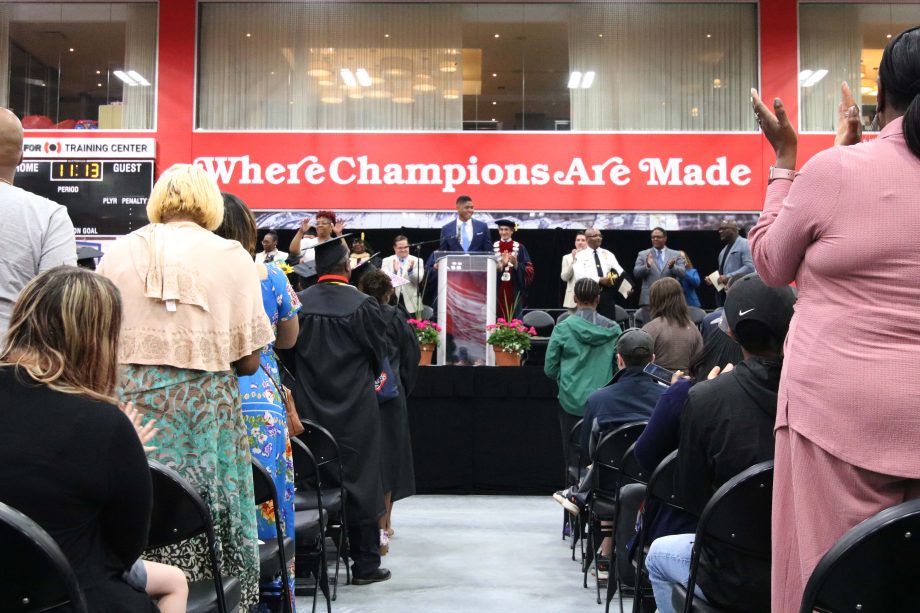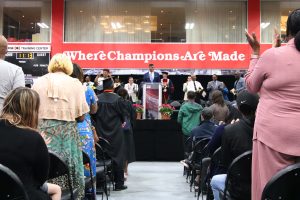 "An educated police officer is a more effective police officer," Police Chief White says. "Education benefits everyone in our great city of Detroit. I've always been a strong advocate not only for the pursuit of higher education but also its accessibility. Wearing this badge is an absolute honor and a privilege. It certainly is not a right. But the honor and privilege of wearing this badge means we work with policing excellence, and the foundation of that excellence is education," he announces. "Few universities award credit for corporate training and life experience in the way Cleary has," reports President Drimmer. "Our faculty developed this degree program to ensure it would be quickly achievable, affordable and convenient so our students would be successful." Most students can complete their degree in only 12 months. They attend class in person one day a week at the Detroit Public Safety Headquarters, and online simultaneously. Cleary also offers a dedicated team of professors who provide tutoring, mentoring and advising to ensure all students have every opportunity to graduate on time. To learn more about The Degree Completion Pathways Program for the Detroit Police Department, visit
www.cleary.edu/detroitpolice
or call 313.800.4145.